Youth Investment Competition Package
After you finish 5 levels course, you're ready to attend competition!
Level 1: Youth Investment 101 and Stock Game

Level 2: Youth Stock Fundamental Analysis

Level 3: Youth Investment Portfolio Management

Level 3: Youth Advanced Financial Modeling

Level 5: Youth Stock Valuation Methodology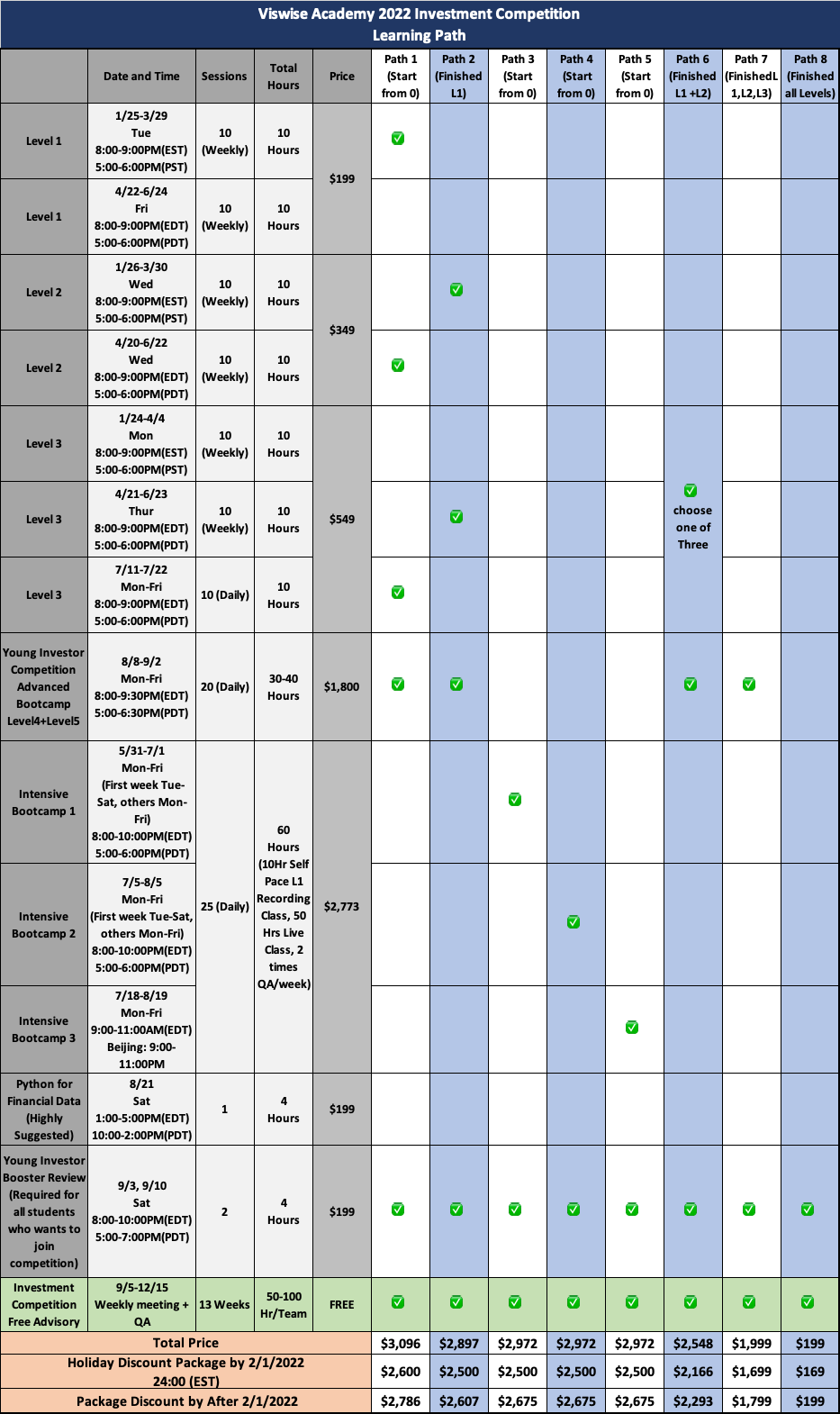 Instructors
Mr. Raymond Mathis is a private equity manager with Tati NY, Inc., an operating company focused on the lodging and hospitality industry. Previously, Raymond was a Portfolio Manager for Spirit of America Investment Funds, a family of equity and fixed income mutual funds. At Spirit of America, he took over Real Estate Income and Growth Fund, in addition to the Large Cap Value Fund, and subsequently launched an Energy Fund and several fixed income funds. Throughout his tenure, Mr. Mathis received many accolades, including being named "Leading Portfolio Manager" by NAREIT's "REIT Magazine" the largest publicly traded real estate industry group, "Best Performing Real Estate Fund" by Zacks Equity Research, and several "Category Kings" awards from The Wall Street Journal, including top performance for Stock Fund, Sector Fund, and Real Estate Fund categories. Mr. Mathis began his career as an Analyst at Standard & Poor's, where he covered companies in the Consumer Discretionary, Financial, Real Estate, and Consumer Staples sectors. In addition to winning the "Best on the Street" award from The Wall Street Journal, he has appeared in print and on television with CNBC, Bloomberg, Wall Street Week, The Wall Street Journal, Financial Times, CNN, Business Week, BBC, USA Today, New York Times, Crain's, and the New York Post. Raymond received his MBA in finance from Louisiana State University (New Orleans). Before that, he earned a degree in music from Berklee College of Music, after which he moved to the French Quarter of New Orleans to play jazz for several years.
Frank has over 10 years of frontline alternatives experience marketing, fundraising, and diligencing some of the largest and most successful funds in the market. Frank founded Ancilla for the purpose of critically aligning funds and investor interests, and maximizing commitment and investor comfort via best-in-class, customized quantitative and qualitative diligence. Prior to founding Ancilla, he was a Director at Providence Equity Partners, the premier and largest sector-focused private equity firm in the world; during his tenure the firm raised over $6Bn for its growth equity and credit vehicles. Prior to Providence, Frank held management positions at Morgan Stanley's MSREF/PE ($40 Bn) as well as Credit Suisse Alternative Investments ($150 Bn). He has an MBA from the Wharton School, University of Pennsyvania and an MSE from the University of Wisconsin, Madison.
Enrolled user
description
Contact our course consultants for further class and price information
WeChat: