Youth Investment 101 and Stock Game (Level 1)
Instructor: A Harvard and Yale graduate and a hedge fund Manager

Schedule: M-F, July 12th - July 23rd

Time: 7:30pm - 8:30pm (EST)

Requirement: Grade 6 and above, class taught in English

Tuition can be fully refunded before the second class. After that, no refund.
Course overview
This course offers an introduction to fundamental economic concepts, investing, how businesses work, and how they contribute to the broader economy. You'll also discover various ways to invest in businesses, and the value of a business' future profits.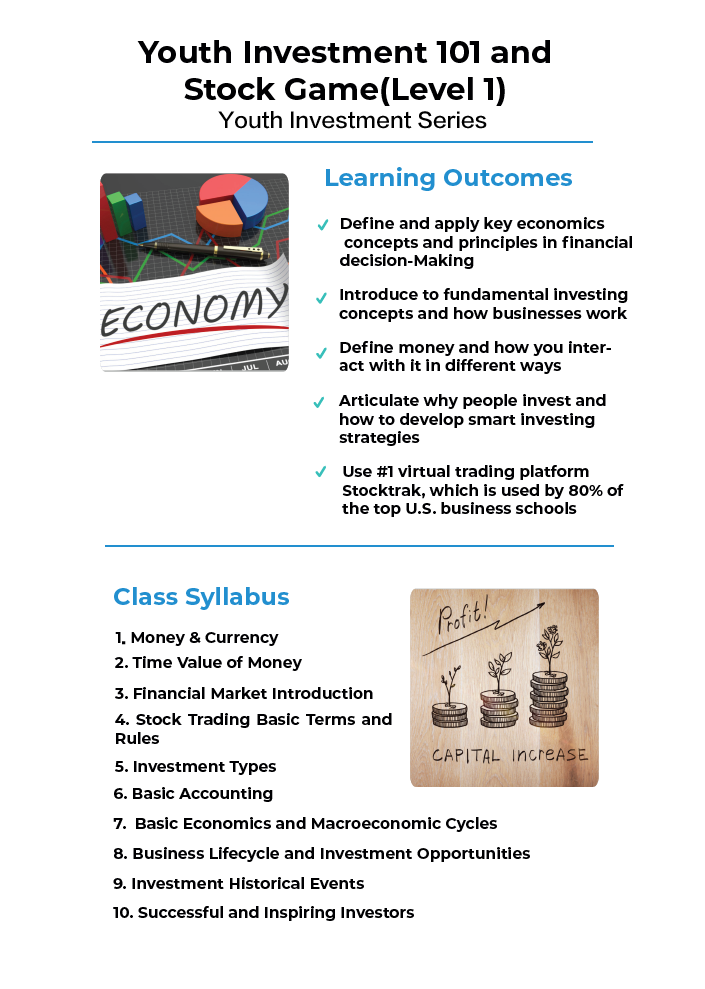 Frank took Principal/MD Ancilla Capital Advisors of Alternative Investment and the CEO of Atrata Inc. He built the next generation leaders of the free world, ppl of strong moral and social character. Proprietary network. Frank worked as Providence Equity Partners, Head of quant analytics Morgan stanley Real estate and PE Credit Suisse Alternative Investments, DLJMB/IP
Frank holds an MBA degree from Wharton School, MSE Engineering U-Wisconsin/U Mich
Learning Outcomes
Define and apply key economics concepts and principles in financial decision-making

Introduce to fundamental investing concepts and how businesses work

Define money and how you interact with it in different ways

Articulate why people invest and how to develop smart investing strategies