Wharton KWHS Investment Competition Acceleration Camp
Instructor: A Harvard and Yale graduate and a hedge fund Manager

Schedule: 2 Hours Daily M - F, May 31st - Jul 2nd

Time: 9:00 pm - 10:30 pm (EDT)

Requirement: Grade 8 and above, class taught in English

Tuition can be fully refunded before the second class. After that, no refund.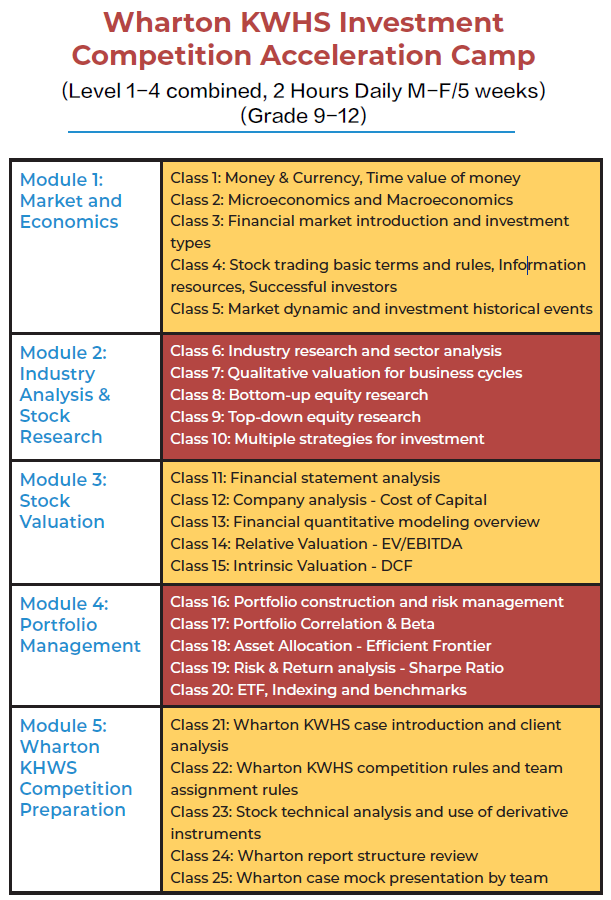 The instructor has eighteen years of Wall Street and finance experience, with a strong focus on equity research and portfolio management. He held senior financial positions at Barclays, Alliance Bernstein, and American Express, among other companies. His core areas of expertise have been technology and financial stocks. Over the years, he was interviewed and cited by Bloomberg, Fox Business, Seeking Alpha, Street Insider, IBS Intelligence, and other news organizations. The instructor holds a Bachelor of Arts degree in Economics from Harvard University and a Master of Business Administration degree from Yale University, with concentrations in Finance and Investment Management. While a student at Harvard, he also held a policy internship position at the White House's National Economic Council. In 2005-2007, he served as the Chief Financial Officer of Yale Economic Review. In 2002-2004, he conducted macroeconomic research at Harvard Business School, in collaboration with two tenured faculty members.