Instructor: Angelene Huang

Schedule: Everyday, Mar 29th - April 2nd (10 classes)

Time: 6:00pm - 9:00pm (EST)

Requirement: Grade 6 and above, class taught in English

Tuition can be fully refunded before the second class. After that, no refund.
Course overview
Start with income and career choices, you will learn about how to be financial independent, how to plan for your future life and how to be financially secure if you don't make a lot of money when you are young, or even how to invest in the stock market with manageable risk during the class. Personal finance is a life-long learning and life-long practice, we wish you can spend, save and invest money wisely after you learned from the class when you grow up.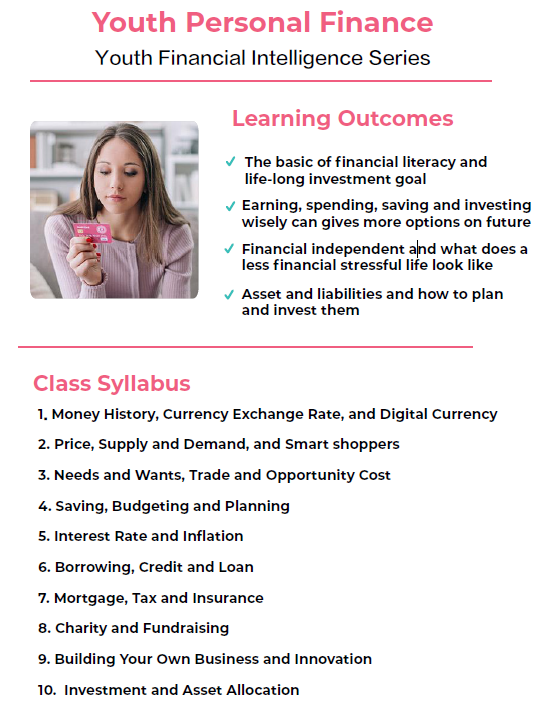 Angelene managed over 20 billion cash investment portfolio and treasury operation for 9 years for Two Sigma Investments, one of the largest global quantitative hedge funds based in New York. Prior to that, she was a senior analyst and forex trader at the treasury of IBM. Angelene holds an MBA degree from Yale School of Management, Master degrees in Computer Science and Civil Engineering, and a bachelor degree from Tsinghua University. She is also the founder of the Chinese Coffee Club, a non-profit registered in New York, providing professional talks and conferences for Chinese communities.
Learning Outcomes
The basic of financial literacy and life-long investment goal

Earning, spending, saving and investing wisely can gives more options on future

Financial independent and what does a less financial stressful life look like

Asset and liabilities and how to plan and invest them