Youth Personal Finance and Career Inspiration
Instructor: Frank

Schedule: Mon - Fri, Aug 9th - Aug 20th (10 classes)

Time: 7:30pm - 8:30pm (EST)/ 4:30pm - 5:30pm(PST)

Requirement: Grade 8 and above, class taught in English

Tuition can be fully refunded before the second class. After that, no refund.
Course overview
Start with income and career choices, you will learn about how to be financial independent, how to plan for your future life and how to be financially secure if you don't make a lot of money when you are young, or even how to invest in the stock market with manageable risk during the class. Personal finance is a life-long learning and life-long practice, we wish you can spend, save and invest money wisely after you learned from the class when you grow up.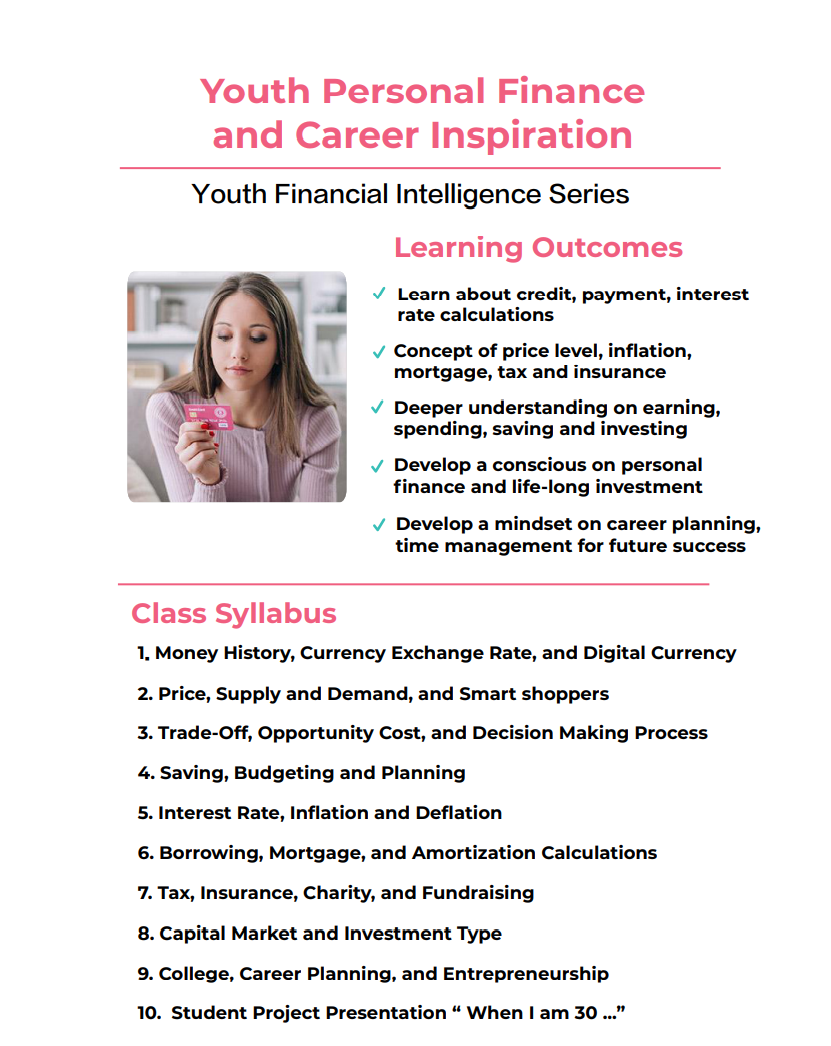 Frank took Principal/MD Ancilla Capital Advisors of Alternative Investment and the CEO of Atrata Inc. He built the next generation leaders of the free world, ppl of strong moral and social character. Proprietary network. Frank worked as Providence Equity Partners, Head of quant analytics Morgan stanley Real estate and PE Credit Suisse Alternative Investments, DLJMB/IP.
Frank holds an MBA degree from Wharton School, MSE Engineering U-Wisconsin/U Mich.
Learning Outcomes
Learn about credit, payment, interest rate calculation

Concept of price level, inflation, mortgage, tax and insurance

Deeper understanding on earning, spending, saving and investing

Develop a conscious on personal finance and life-long investment

Develop a mindset on career planning, time management for future success