Youth Stock Fundamental Analysis
(Level 2)

Instructor: A Harvard and Yale graduate and a hedge fund Manager

Schedule: Wed, Sep 15th - Nov 17th

Time: 7:30pm - 8:30pm (EDT)

Requirement: Grade 6 and Above or completed "YI001 - Investment 101 and Stock Game"

Tuition can be fully refunded before the second class. After that, no refund.
Course overview
Learn how the stock market works, and how to pick stocks by understanding their underlying value. This class introduces basic fundamental analysis techniques used by Wall Street professionals to select investments. You'll employ these methods to build a simulated stock portfolio and compete with other students to have the best investment performance. Each student will have an opportunity to run a portfolio and trading simulation on a licensed high-quality simulator "StockTrak". A class wide investment competition will select the winners.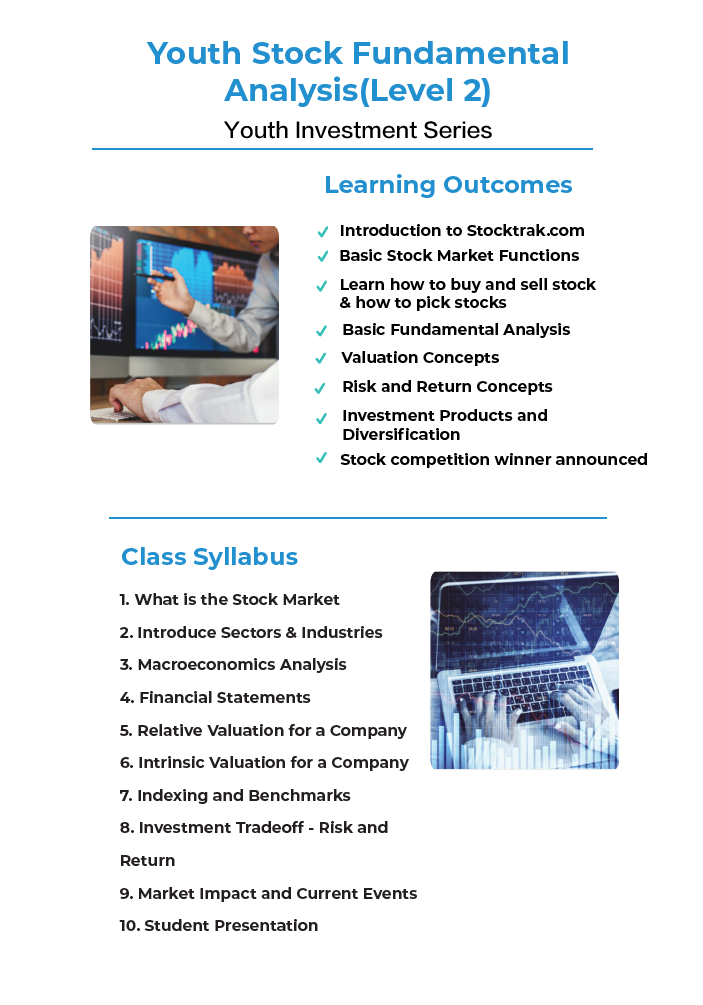 Frank took Principal/MD Ancilla Capital Advisors of Alternative Investment and the CEO of Atrata Inc. He built the next generation leaders of the free world, ppl of strong moral and social character. Proprietary network. Frank worked as Providence Equity Partners, Head of quant analytics Morgan stanley Real estate and PE Credit Suisse Alternative Investments, DLJMB/IP
Frank holds an MBA degree from Wharton School, MSE Engineering U-Wisconsin/U Mich.
Learning Outcomes
Introduction to stocktrak.com

Basic stock market functions

Learn how to buy and sell stock & how to pick stocks

Basic fundamental analysis

Valuation concepts

Risk and return concepts

Investment products and diversification

Stock competition winner announced