Instructor: Jaimie Rush

Schedule: Fri, Sep 17th - Nov 19th

Time: 7:00pm - 8:00pm (EDT)/ 4:00pm - 5:00pm(PDT)

Requirement: Grade 3-5, class taught in English

Tuition can be fully refunded before the second class. After that, no refund.
Course overview

Raising financially savvy children involves teaching them a variety of aspects from budgeting to planning, earning and saving. Besides giving them an understanding of the value of a dollar, teaching children about fiscal responsibility helps prepare them for life in the real world.


Kids Money Talk Level 01 will teach your kids basic concept of money and finance. Our class will be taught over 10 lessons, each lesson we will cover an interesting topic that is keen to kids heart. From lemonade stand to piggy bank, kid will learn through interesting activities.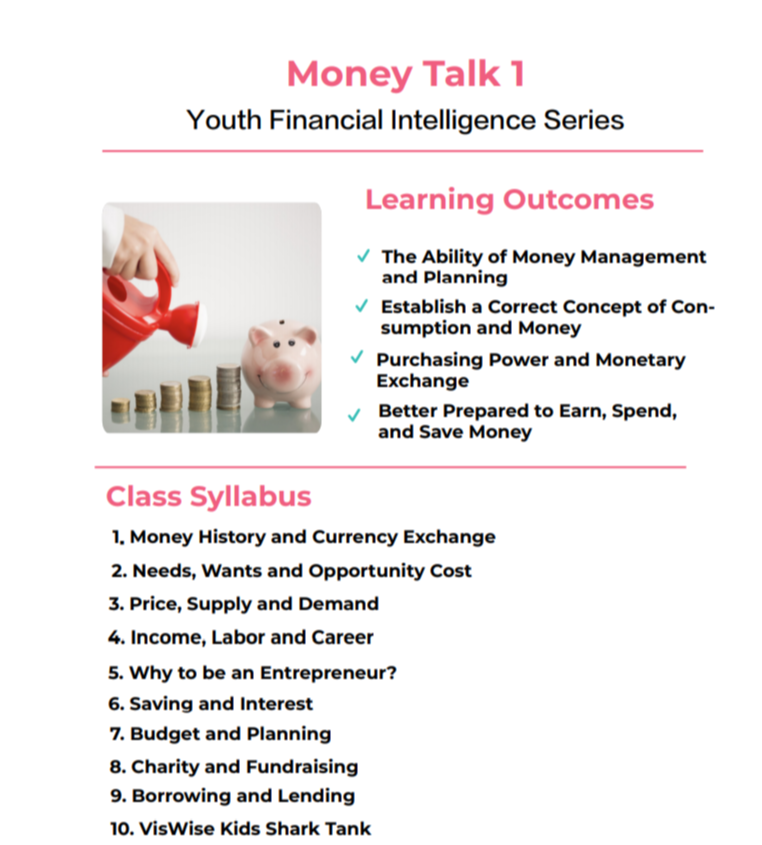 Instructors
Jaimie Rush
Senior Level Executive and Certified Project Management Professional (PMP)
Successful Marketing Consultant for a diverse range of multi-million dollar initiatives including consumer products, financial, high education etc
Senior Director of Extended Learning in marketing and business development at the University of La Verne
Brigham Young University MBA
Learning Outcomes
The ability of money management and planning

Concept of money and saving, spending

Purchasing power and monetary exchange

Understand investment and risk management