Money Talk - Young Banker
Instructor: Angelene Huang, Rachel Yang

Schedule: M-F, July 12th - July 23rd

Time: 7:30pm - 8:30pm (EST)

Requirement: Grade 3-7, class taught in English

Tuition can be fully refunded before the second class. After that, no refund.
Course overview

Start from credit and debit, Kids Money Talk Level 2 give kids a series of fundamental knowledge in digital currency, compound interest, inflation, taxes, mortgage, and insurance that will used in personal finance. Kids will learn about why they should be financial independent after they grow up or even how to plan for their life-time investment goals.
Our class will be taught in 10 lessons, each lesson we will cover an interesting topic that inspire kids learn more about money and finance deeper. We wish they can develop good saving habits and healthy spending pattern after Kids Money Talk Level 1.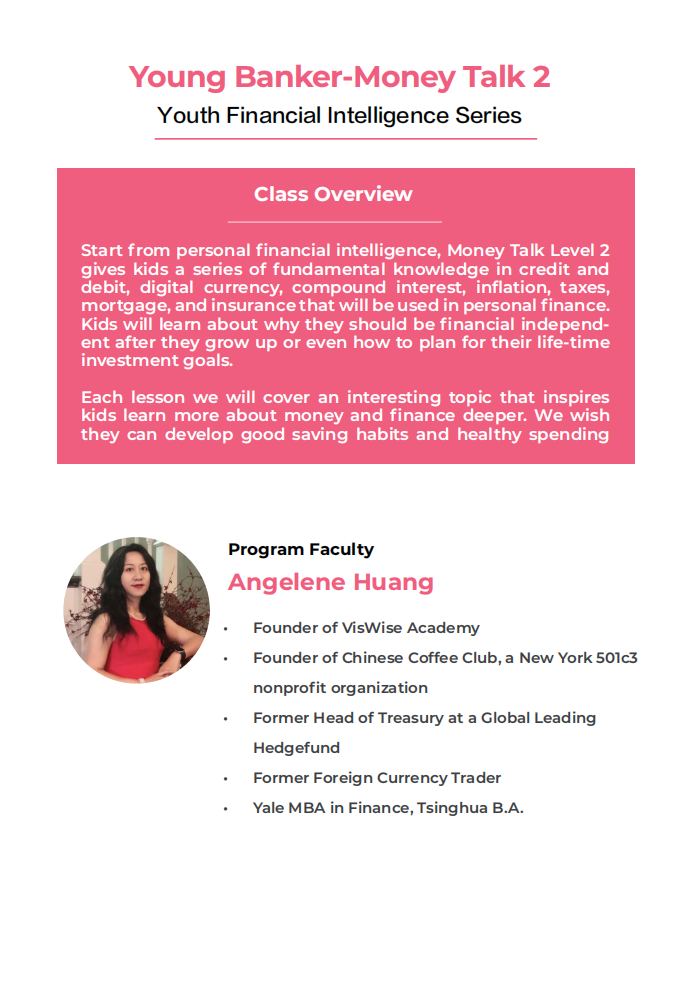 Angelene Huang
Angelene managed over 20 billion cash investment portfolio and treasury operation for 9 years for Two Sigma Investments, one of the largest global quantitative hedge funds based in New York. Prior to that, she was a senior analyst and forex trader at the treasury of IBM. Angelene holds an MBA degree from Yale School of Management, Master degrees in Computer Science and Civil Engineering, and a bachelor degree from Tsinghua University. She is also the founder of the Chinese Coffee Club, a non-profit registered in New York, providing professional talks and conferences for Chinese communities.
Rachel Yang
Rachel Ping Yang is Managing Partner of Highline Park Capital LLC. Prior to her current position, she was Executive Director at Fosun International covering investment in financial services and Executive Director of corporate banking and financial institutions at Industrial and commercial bank of China. She used to work in structured finance industry for years for Mizuho Securities, Credit Agricole CIB, Ernst and Young LLP and Moody's Wall Street Analytics. Rachel Ping Yang holds a M.S. in Financial Engineering from University of Michigan and Bachelor in Management Information Systems from Tsinghua University.
Learning Outcomes
Learn about credit, payment, interest rate and tax

Concept of price level, inflation, mortgage and insurance

Deeper understanding on earning, spending, saving and investing

Develop a conscious on personal finance and life-long investment