Instructor: Angelene Huang

Schedule: M-F, Aug 9th - Aug 20th

Time: 7:30pm - 8:30pm (EST)/ 4:30pm - 5:30pm(PST)

Requirement: Grade 3-5, class taught in English

Tuition can be fully refunded before the second class. After that, no refund.
Course overview

Raising financially savvy children involves teaching them a variety of aspects from budgeting to planning, earning and saving. Besides giving them an understanding of the value of a dollar, teaching children about fiscal responsibility helps prepare them for life in the real world.


Kids Money Talk Level 01 will teach your kids basic concept of money and finance. Our class will be taught over 10 lessons, each lesson we will cover an interesting topic that is keen to kids heart. From lemonade stand to piggy bank, kid will learn through interesting activities.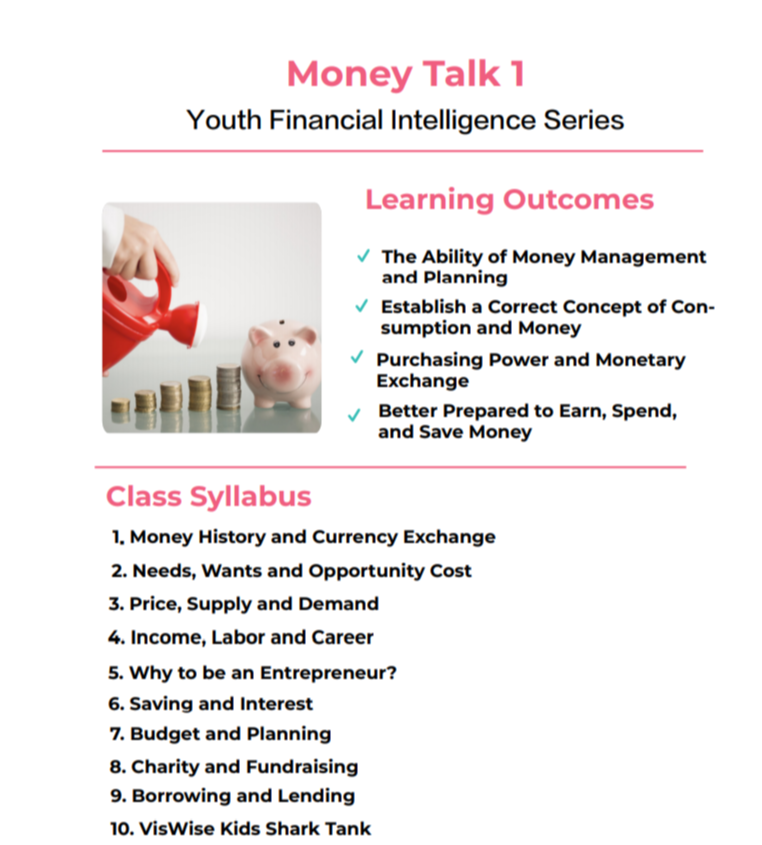 Instructors
Angelene Huang
Angelene managed over 20 billion cash investment portfolio and treasury operation for 9 years for Two Sigma Investments, one of the largest global quantitative hedge funds based in New York. Prior to that, she was a senior analyst and forex trader at the treasury of IBM. Angelene is an experienced treasury and capital market profession, a strategic leader for technology automation, and a detail-oriented risk manager with a focus on daily excellence and consistent improvement. She also manages various cross team projects and embraces transparency and high standard of work ethics. She is an experienced professional in Forex trading and hedge strategy, as well as the short-term cash investment. Angelene holds an MBA degree from Yale School of Management, Master degrees in Computer Science and Civil Engineering, and a bachelor degree from Tsinghua University. She is also the founder of the Chinese Coffee Club, a non-profit registered in New York, providing professional talks and conferences for Chinese communities.
Learning Outcomes
The ability of money management and planning

Concept of money and saving, spending

Purchasing power and monetary exchange

Understand investment and risk management