Wharton KWHS Investment Portfolio Management (level 4)
Course overview
This course will employ the fundamental, technical, investment analysis techniques learned in the prior two classes to build a portfolio in conjunction with a team. Quantitative methods such as portfolio optimization and risk management techniques are introduced. After this class, students should be prepared to compete in the Wharton Global High School Investment Competition.
Each student will have an opportunity to run a portfolio and trading simulation on a licensed high-quality simulator "StockTrak". A class wide investment competition will select the winners. And High School Students (9-12 grade) in this class can also sign up for the free coaching to attend Wharton Global Investment Competition (Sep – Dec 2021).
Instructor: A Harvard and Yale graduate and a hedge fund Manager

Schedule: Mon - Sat, July 12th - July 24th

Time: 17:00 pm - 18:30 pm (EST)


Tuition can be fully refunded before the second class. After that, no refund.
Pre-requirements:
Grade 8 and above, must completed previous courses,
"Youth Investment 101 and Stock Game (Level 1)"
,
" Youth Stock Fundamental Analysis (Level 2)"
and
"Youth Advanced Equity Analysis and Modeling (Level 3)."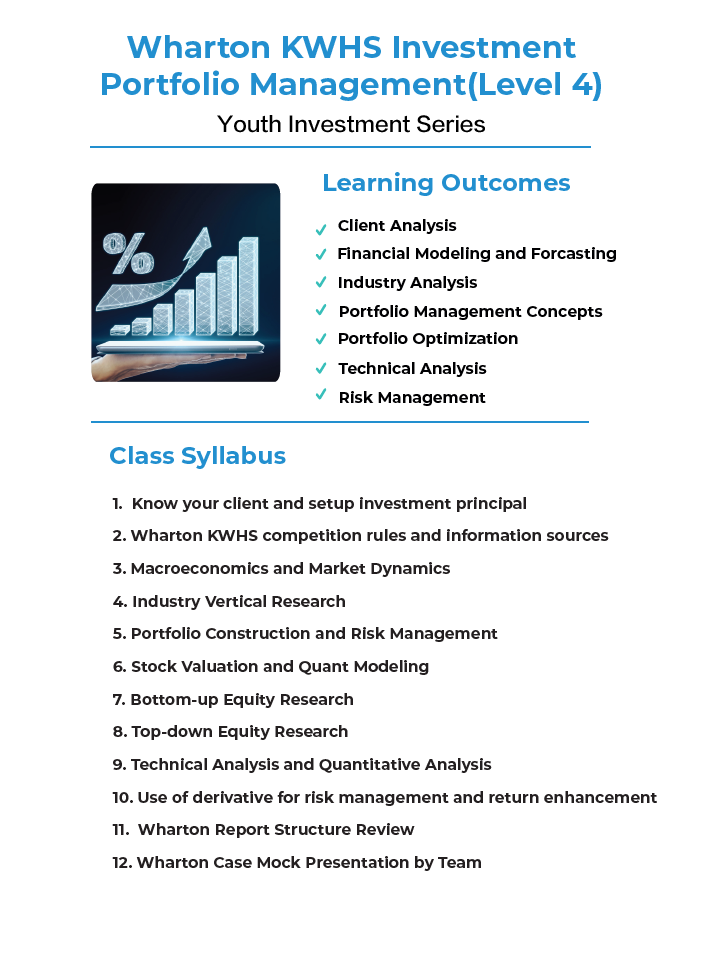 A Harvard and Yale graduate and a hedge fund Manager
The instructor has eighteen years of Wall Street and finance experience, with a strong focus on equity research and portfolio management. He held senior financial positions at Barclays, Alliance Bernstein, and American Express, among other companies. His core areas of expertise have been technology and financial stocks. Over the years, he was interviewed and cited by Bloomberg, Fox Business, Seeking Alpha, Street Insider, IBS Intelligence, and other news organizations. The instructor holds a Bachelor of Arts degree in Economics from Harvard University and a Master of Business Administration degree from Yale University, with concentrations in Finance and Investment Management. While a student at Harvard, he also held a policy internship position at the White House's National Economic Council. In 2005-2007, he served as the Chief Financial Officer of Yale Economic Review. In 2002-2004, he conducted macroeconomic research at Harvard Business School, in collaboration with two tenured faculty members.
Learning Outcomes
Client Analysis

Financial modeling and forecasting

Industry analysis

Portfolio management concepts

Portfolio optimization

Technical Analysis

Risk management