Wharton KWHS Investment Portfolio Management (level 4)
Course overview
This course will employ the fundamental, technical, investment analysis techniques learned in the prior two classes to build a portfolio in conjunction with a team. Quantitative methods such as portfolio optimization and risk management techniques are introduced. After this class, students should be prepared to compete in the Wharton Global High School Investment Competition.
Each student will have an opportunity to run a portfolio and trading simulation on a licensed high-quality simulator "StockTrak". A class wide investment competition will select the winners. And High School Students (9-12 grade) in this class can also sign up for the free coaching to attend Wharton Global Investment Competition (Sep – Dec 2021).
Instructor: Raymond Mathis

Schedule: Tuesday & Friday, June 1st - July 9th

Time: 4:30pm - 6:00pm (EDT)


Tuition can be fully refunded before the second class. After that, no refund.
Pre-requirements:
Grade 8 and above, must completed previous courses,
"Youth Investment 101 and Stock Game (Level 1)" , " Youth Stock Fundamental Analysis (Level 2)"
and
"Youth Advanced Equity Analysis and Modeling (Level 3)."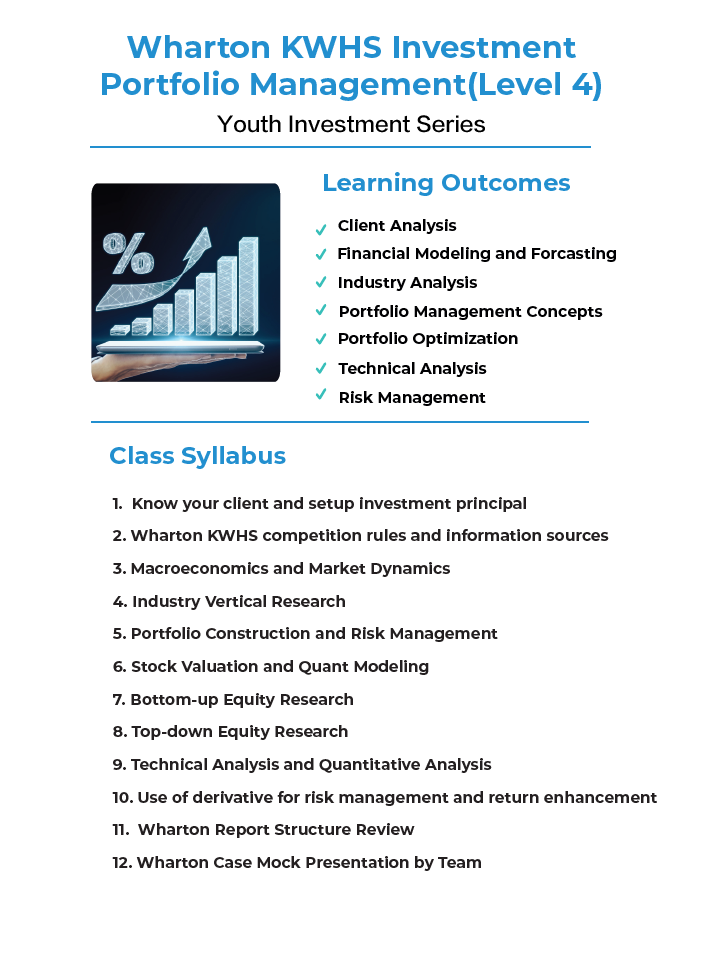 Mr. Raymond Mathis is a private equity manager with Tati NY, Inc., an operating company focused on the lodging and hospitality industry. Previously, Raymond was a Portfolio Manager for Spirit of America Investment Funds, a family of equity and fixed income mutual funds. At Spirit of America, he took over Real Estate Income and Growth Fund, in addition to the Large Cap Value Fund, and subsequently launched an Energy Fund and several fixed income funds.
Throughout his tenure, Mr. Mathis received many accolades, including being named "Leading Portfolio Manager" by NAREIT's "REIT Magazine" the largest publicly traded real estate industry group, "Best Performing Real Estate Fund" by Zacks Equity Research, and several "Category Kings" awards from The Wall Street Journal, including top performance for Stock Fund, Sector Fund, and Real Estate Fund categories.


Mr. Mathis began his career as an Analyst at Standard & Poor's, where he covered companies in the Consumer Discretionary, Financial, Real Estate, and Consumer Staples sectors. In addition to winning the "Best on the Street" award from The Wall Street Journal, he has appeared in print and on television with CNBC, Bloomberg, Wall Street Week, The Wall Street Journal, Financial Times, CNN, Business Week, BBC, USA Today, New York Times, Crain's, and the New York Post. Raymond received his MBA in finance from Louisiana State University (New Orleans). Before that, he earned a degree in music from Berklee College of Music, after which he moved to the French Quarter of New Orleans to play jazz for several years.
Learning Outcomes
Client Analysis

Financial modeling and forecasting

Industry analysis

Portfolio management concepts

Portfolio optimization

Technical Analysis

Risk management